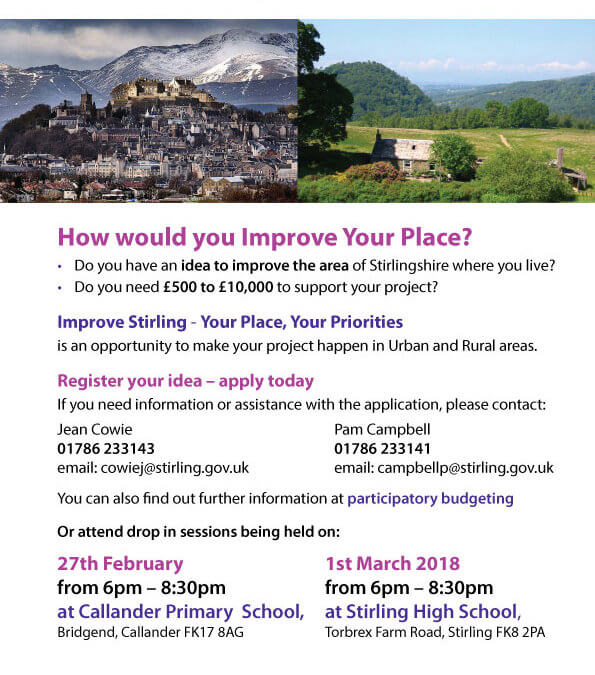 Stirling Council, as part of their locality planning processes, has been successful in securing £65,000 to distribute to community groups, from the Scottish Government's community choices fund. They have matched the grant, creating a fund of £130,000 for community groups, to enable them to deliver activities throughout Stirlingshire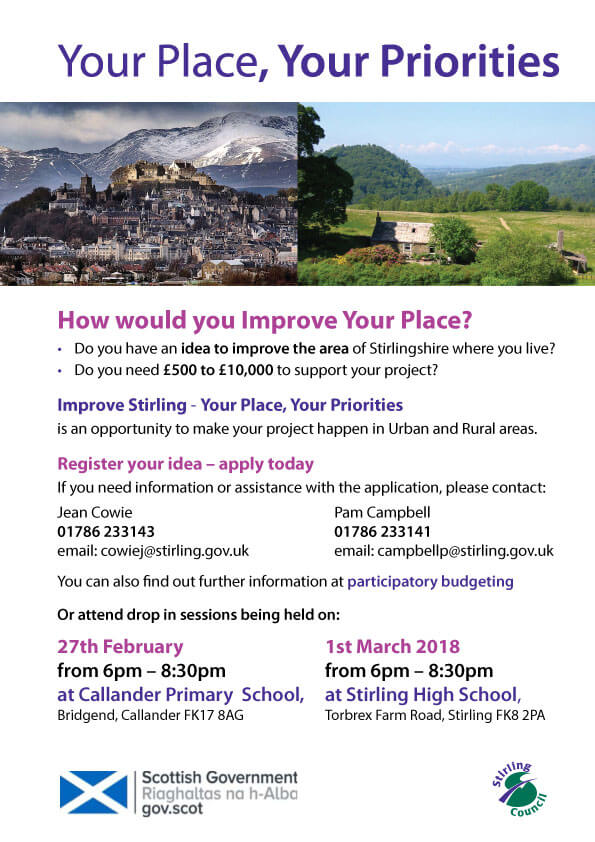 The Your Place, Your Priorities initiative allows the local community to decide which projects are needed and should be funded in their area.
Any local community, voluntary or non-profit groups can apply to this fund – even informal groups. Funding of £500 to £10,000 is available to put each idea into action. Informal groups should seek the support of a formal group which is willing to hold the grant award in its bank account and manage payments as the project is delivered. All activities will have to happen in areas of Stirling and benefit local people.
To apply for the funding you must return this form before midday on Friday 16th March 2018, and be prepared to present your idea at an event on Saturday 24th March. Two presentation and voting events will take place on Saturday 24th March 2018, one in Stirling High School and one in Callander Primary School. Applicants will present their projects and local community members in attendance will vote on all the applications presented. Decisions will be made on the day.
We have provided a link to a short video the Church and Society Council produced as part of its Speak Out initiative Doing Politics Differently, explaining Participatory Budgeting https://www.youtube.com/watch?v=hKdIllMhrA0
If you need information or assistance with the application, please contact: Jean Cowie, Funding Officer, telephone 01786 233143: email cowiej@stirling.gov.uk or Pam Campbell, Senior Community Link Officer, 01786 233141: email campbellp@stirling.gov.uk